Wow, it has been way to long since I got a chance to write on this blog….I got very sick and was so nice to share it with everyone.  I am just that kind of nice Mom.  Once you grow up watching Sesame Street and learn that sharing is good, you can't go back!  In the thought of sharing, I wanted to say thank you.  Thank you for another amazing year.  Thank you for the continued support.  Thank you for caring about the Earth.  Thank you for being your wonderful self and that can only make the world a better place.  Thank you from the bottom and the top, and really just all of it, my heart.  You are so amazing to help us continue to grow.  We now have over 700 followers on facebook, new people liking us all the time on twitter, instagram and pintrest.  Continued support on Etsy and our website.  I really can't say thank you enough.  Here are some of the hightlights of the year:
Lets start with some of the fun boutiques or festivals we have been to and just a few pictures of each:
Always a fun place to go. My family and I love to come here.  It is always amazing to me that you can find this paradise in the middle of the city.  What a fun event every year.  This year we had a bunch of rain to start off the day so I don't really have a ton of pictures but it was an amazing day!
some of the items we had here for the first time:
and some of our stunning recycled/ upcycled clothes:
Earth Jam

:

Earth Jam is always a fun event to go to.  The music is great and the people are nonstop amazing to watch, talk and dance with.  Of course, we always love to have our booth next An Array of Artistry.  Not only is she super talented and sweet but she watches my booth so I can go pee!
An after shot of one of our jackets that sold:
Thank you so much Janet from An Array of Artistry for creating this amazing picture!
One of her booth:
The Local

's Winter Boutique:
We are always so thankful for all the amazing friends, family, neighbors and more that come out to support all the amazing local crafters and artist.
The Holidays Winter Bash at the Ogden Nature Center:
We always love to come to the magical place.  This deer came right by the window I was setting by.  So amazing.  The people that come to support the Ogden Nature Center are always so fun to talk to and meet.  Thank  you for supporting this wonderful place and us.
Featured in a Magazine:
This year we got featured in a VEIN Magazine, http://www.veinmag.com/ What an awesome experience to see ourselves in a magazine.  It really was inspiring to see our clothes in the same magazine as the band Of Monsters and Men.  We were feeling pretty darn cool for this one.
Here is a behind the scenes video for you to check out:
Supplied Jewelry for a Fashion Show:
Thank you Shawnee Sawyer for thinking of us to help with the Steam punk jewelry.
We are so greatful for the local support of business that carry our items also:
Green The World:
They can be found on historic 25th Street in Ogden.  Their entire shop is Eco Friendly.  They carry our sweater  mittens and slippers, recycled crayons, jewelry, reusable lunch bags, jean purses, sweater hats, childrens capes and more.  This is the best place to find gifts!
Ume Boutique:
This another amazing shop on historic 25th street in Ogden.  They carry our line of Upcycled/Recycled Sweater and T-shirt Clothes.   This shop has amazing clothes in it and should be on your must visit shop if you are heading over to Ogden.
The Nest Gift Shop:
This is a fun earthy little shop at the Ogden Nature Center.  They carry our recycled crayons.
Oh and you are the first to hear this but we have also been asked to supply items to the brand new
Only In Ogden Store

:

We are so excited to be part of this amazing new store.  They will be carrying our recycled Sweater mittens and slippers, magnets, hats and scarves.
We are also so happy to have been featured in several blogs or websites this year:
To The Sea:
http://www.totheseablog.com/2013/08/leading-by-example.html#comment-form
Lark Crafts:
http://www.larkcrafts.com/needlearts/dear-etsy-from-ruby/
Neighborhood Acupuncture and Healing Arts:
http://www.naahac.com/local-favorites
Love 2 Upcycle:
http://love2upcycle.blogspot.com/
Eco Chick:
Runner up in an Upcyclers Challenge:
Sustainable March:
Supporting Artists: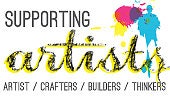 http://www.supporting-artists.com/team-blog-hop/
Some of the wonderful causes we have been able to donate to this year:
DaVinci School
Burn Camp
New Image Day Spa, fundraiser for a wonderful staff member who got cancer.
Woodlands Bash
Indie Ogden Awards
Unitarian Universalist Church Fundraiser
Earth Day Walk and Trash Pick Up Event
DC Cop Classic Fundraiser
Sol Song Concerts
Thanks to all the Recyclers I love:
I have so many amazing friends, family and community that recycle the most ordinary to the craziest items I have ever seen with us.  I LOVE THEM ALL!   I love you all and I hope that I don't forget anyone:
Lance Howerteon, Haley and Emery Young, Mason and Phoenix Howerton, Helen Scoggins, Stephen and  Heather Wisely, Brigitte Wisely, German Relatives (can't wait to use the bottle caps), Monique and Eric Lundstedt,  Ingrid Sanchez, Janet and Leonard Gioffre-Harrington, Xeneda Card, Selma and Heinz Jockisch, Pattie Cook, Victoria Betz, Lisa Herland, Julie Pilcher, Christina Charbonneau, Cheyenne Herland, Gina and Chad McInelly, Shelly Felts, Susan Snyder, Bernadene Whitten, John Hinds, Peggy Bon,  Sue and Dave Wilcox, Ogden Nature Center and all the amazing people and places who just leave the coolest stuff at my house that I have no way to say thank you to.  A special thanks to Joe Charbonneau for the continued support with our website.  I love you all and hope I did not forget anyone.  You warm my heart with your kindness.
Again, thank you for the continued support and love that you give to us.  Happy Holidays, thank you again for helping make our year amazing and we hope you have a wonderful New Year ahead!
Related articles